The OVO Network has issued a list of child-friendly holiday destinations in 2022. They studied 50 cities across Europe and gathered information on the number of museums, water parks, and child-friendly attractions, among other things. After that, they merged the information with safety, cleanliness, and transportation costs before they weighted and ranked the cities.
This year will see a return to normalcy, with vacations expected to have a big comeback since the outbreak of Covid-19. OVO Network's data reveals the finest city breaks for a child-friendly vacation this year.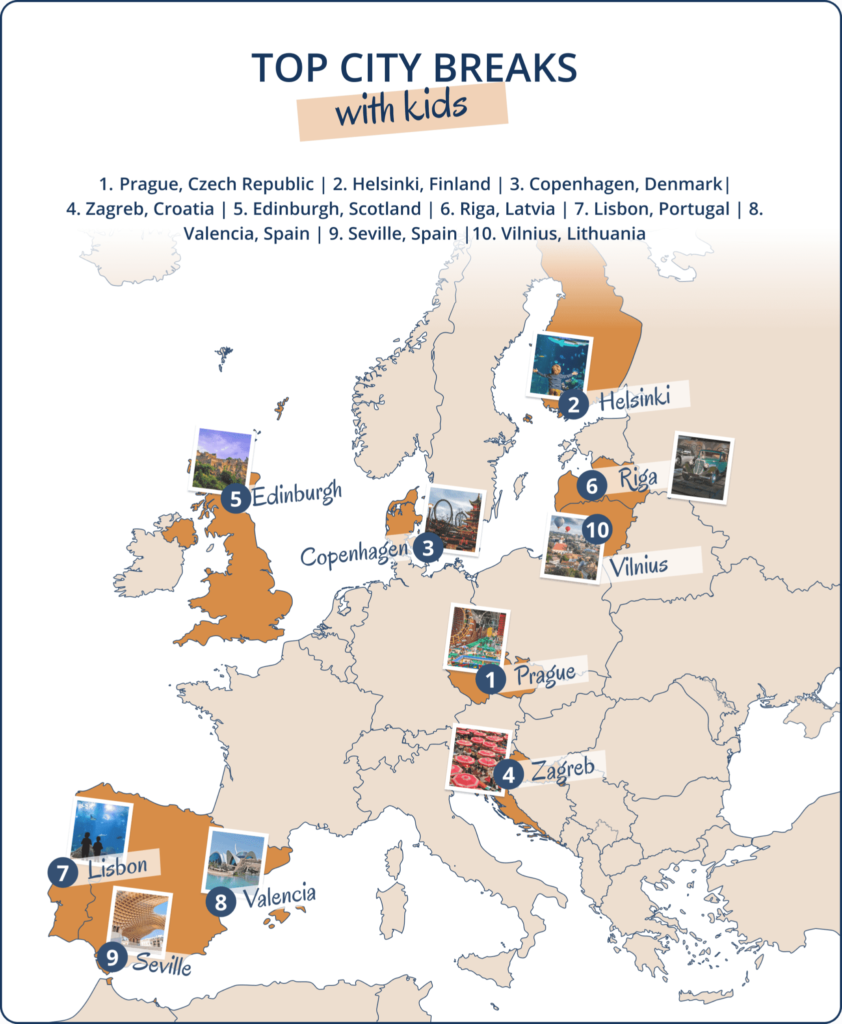 Prague is in first place, according to the interactive tool. With 15 per 1,000,000 people and tourists, it has unparalleled access to water and entertainment parks in Europe. In terms of museum access, the Czech capital is foremost, with more per 1,000,000 people and tourists than any other country. Prague also offers some of Europe's safest streets, with the continent's fourth-best air quality.
Helsinki, Finland's capital, and Copenhagen, Denmark's capital, are in second and third place, respectively, and are significantly colder. Both North European countries have excellent culture, as seen by tourists' access to museums – Helsinki ranks in the top 15 and Copenhagen ranks in the top 5. Both northern European capital cities have low crime rates, and their air quality is among the greatest in the world, thus it is no surprise that they rank high in the Happiest Countries in the World 2022 report.
Zagreb, Croatia, and Edinburgh, Scotland, are ranked fourth and fifth, respectively. Edinburgh boasts Europe's second-most kid-friendly attractions, and Zagreb has Europe's cheapest transportation expenditures.
Where there is a winner, there is usually a loser as well. At the bottom of the report are two cities in the United Kingdom. Manchester is at the bottom of the list, having the least amount of museums and child-friendly activities among the 50 cities studied. It also has the third highest crime rate in the country. London is ranked second-worst in terms of the number of acceptable attractions per 1,000,000 people and tourists; its air quality, as well as the expense of travelling about England's city, are both terrible.
Source: OVO Network