Have you ever fantasised about packing your belongings into cardboard boxes and migrating to a new location where the sun shines every day, the beers are cheap, and the quality of life is high? This ambition is becoming a reality for many people thanks to the advent of flexible employment. To assist you select where you would like to migrate, a research by RAJA shows the best places to relocate to. RAJA analysed 25 locations based on ten characteristics such as job rate, cost of living, safety, and healthcare.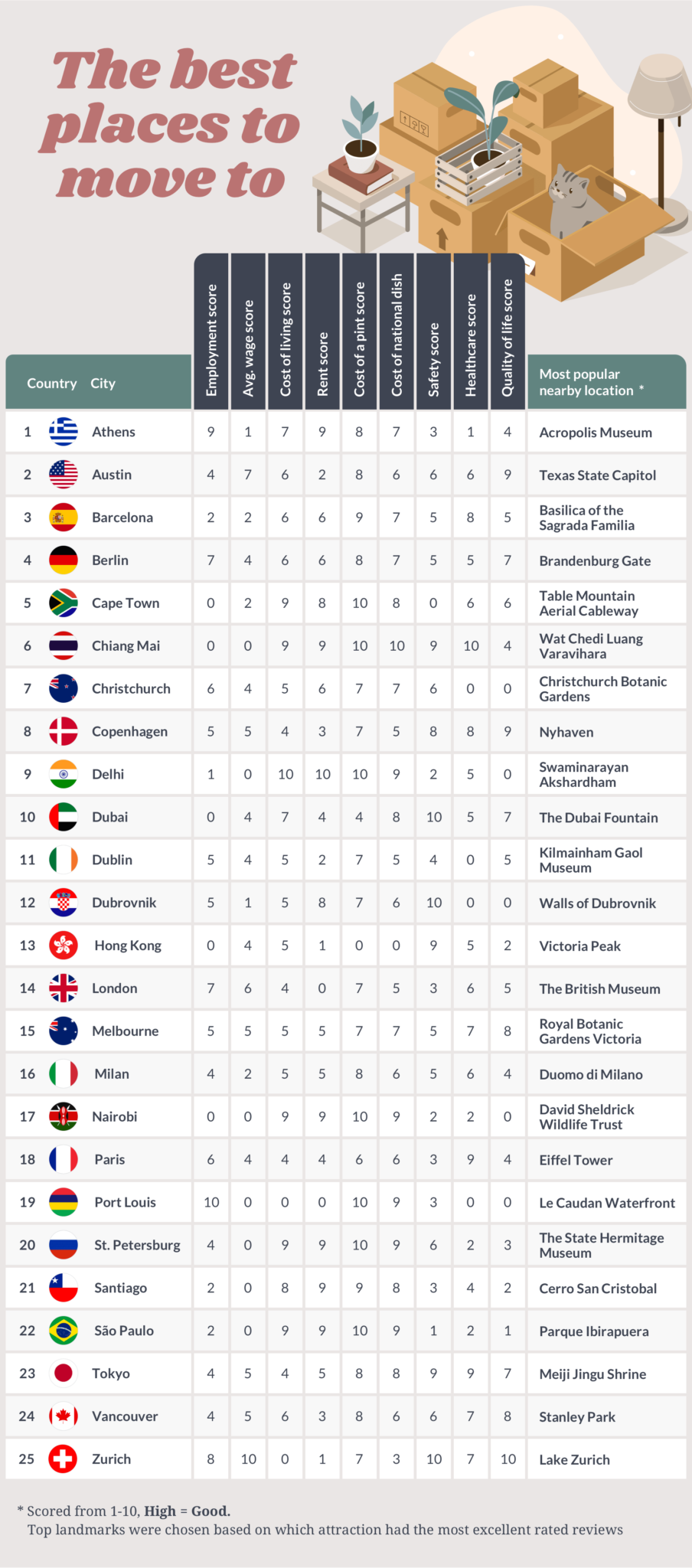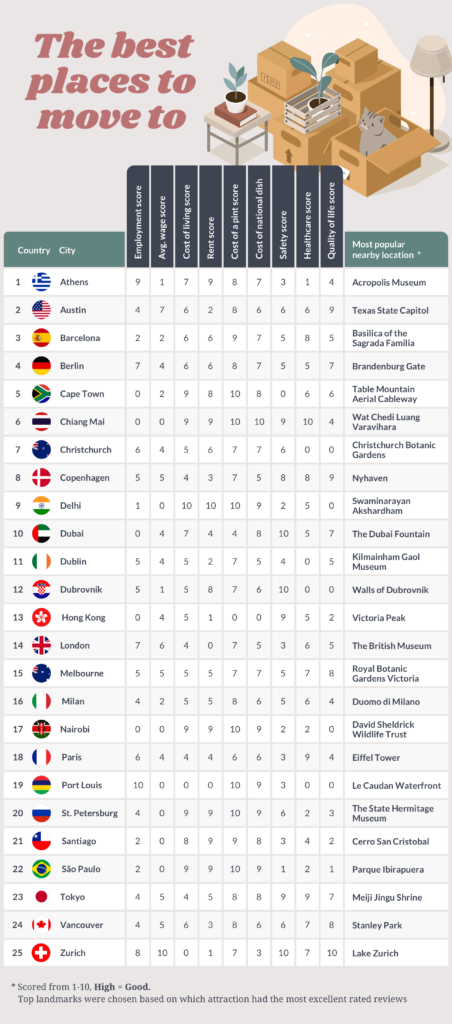 Places that will compensate you for relocating there
Many towns and villages around the world are experiencing population decline and weak economic growth, and they are in desperate need of new residents to help them regain their former vigour. Because of this, they have put up plans to compensate you for relocating there. In exchange for your participation, you will either receive funding to establish a business, discounted pricing on properties (as low as €1) with additional funds to assist repair them, or cold, hard cash. 
So, have your cardboard storage boxes ready because you might find yourself wanting to relocate as soon as you finish reading the following sentence. The state of Alaska in the United States has a Permanent Dividend Fund, which will provide you with a yearly incentive of $1,000 (£732) if you decide to relocate to that state. Alternatively, if bears and snow are not your thing, you can head to the balmy climes of Santiago, Chile, where the weather is always pleasant. Start-Up Chile will provide you with a grant of 25 million pesos (£23,000) to help you relocate and start your business in Chile. Furthermore, with an affordability score of 9, you will be able to take advantage of everything the country has to offer.
If you prefer something a little closer to home, the Swiss village of Albinen will pay you 25,000 CHF (£19,635) per individual, or twice that amount for couples, if you build a home or live in the area for at least 10 years. In addition, it is only a three-and-a-half-hour drive from Zurich, which is the city with the greatest rankings for wellbeing and employment in the world.
The finest city to work in?
It is one of the most crucial things to consider before relocating to a new city: whether or not you will have a job waiting for you when you arrive there. In order to assist you in making your decision, RAJA investigated the employment rate and average wage of several cities.
Zurich ranked first in terms of employment opportunities. For average wage, it received a perfect score of 10; for employment rates, it received an 8; and for unemployment, it received a perfect score of 10. (behind Port Louis in Mauritius and Athens in Greece). London, Berlin, and Austin tied for second place in terms of work metrics, each receiving a score of 6.
The most economical places to live 
When you relocate, you will want to make certain that you have the financial means to take advantage of everything the area has to offer, including experiencing the local cuisine and checking items off your bucket list. Because of this, RAJA looked at the cost of living, the average rent, the cost of a pint, and the cost of the national dish to determine where each country ranked in terms of affordability.
India's capital, Delhi, has been named the most affordable city in the world, earning a perfect 10 on all parameters with the exception of the cost of the national dish (for which it scored a 9). In the event that you already have a job and are able to work from home, choosing to reside in a less expensive city such as Delhi may be a winning mix. While earning the same salary as you do now, you can enjoy fewer living expenses and more discretionary income to spend on the things you enjoy doing the most.
Thailand's second-largest city, Chiang Mai, lies just behind Delhi, where you can get the country's national dish and a pint for just £3.32. On the other end of the spectrum, Hong Kong is the most expensive city to live, with an average lunch and a pint costing £42.13 per person per month.
The city that has the highest overall level of well-being
When it comes to your health and well-being, it is also crucial to check off the boxes of healthcare, safety, and overall quality of life. For the purpose of determining which city has the best overall wellbeing score, RAJA looked at scores for safety, healthcare, and quality of life (which considers a variety of indices such as purchasing power, traffic commute time, pollution, and climate).
If you are looking for the city with the greatest overall wellbeing score, go no further than Zurich. It received perfect grades in the safety and quality of life categories, but only a 7 in the healthcare category (for which Chiang Mai scored the highest). In second place with an overall wellbeing score of 8, Copenhagen, Tokyo, and Chiang Mai are tied for second place, and Vancouver is in third place with a score of 7. Along with taking advantage of everything these towns have to offer, you will also be able to relax and have some peace of mind concerning your health.
Methodology
RAJA research team evaluated 25 cities based on ten key variables that are significant when considering a migration to a new nation. All of the information was gathered in September of 2021. In order to standardise their results and aid in the ranking of the cities, they used a method to assign equal weights to each statistic, with 1 being the lowest score and 10 being the highest, as shown in the table below. They were only able to provide a score in cases where data was readily accessible. If there was no data available, they gave it a score of zero for that category.
Source: RAJA