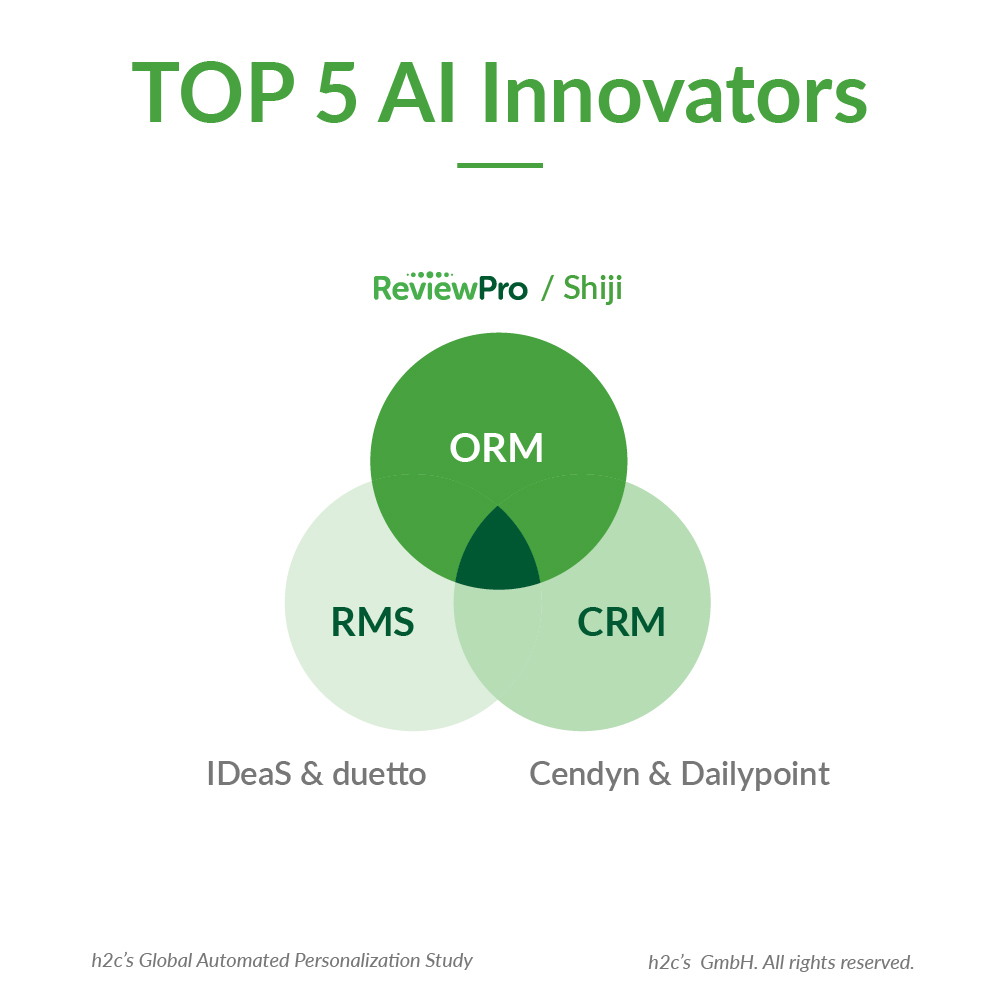 ReviewPro, the world's leading provider of guest intelligence data, was designated one of the top 5 innovators in the hospitality sector by global hoteliers. The findings of a recent analysis by h2c on the adoption of tailored automation in the hotel industry provide the exciting news.
Poll participants came from Europe, the Middle East and Africa, Asia-Pacific and the Americas. The survey sampled a total of 10 percent of all hotel chains globally. The study sought hoteliers' opinions on the application of artificial intelligence and machine learning to the visitor journey.
Michaela Papenhoff, Managing Director, h2c said "The report provides a good overview of the current state of the industry and where it is headed, based on the needs and preferences of hotel chains worldwide. We have seen a strong uptick from 2020, when only about 10% of the surveyed and interviewed hotel chains were applying AI to their processes. In 2021, this figure jumped threefold to 30%."
In the research, h2c also asked hoteliers to rate hospitality technology companies based on their ability to innovate with artificial intelligence. ReviewPro was listed in the top 5 together with IDeaS, Duetto, Cendyn, and Dailypoint, among other companies.
"We're very honored to be recognized as a top innovator, and this is made even more significant as it was voted for by hoteliers themselves. We've been in the industry for over ten years, continuously investing in state-of-the-art technology and developing according to industry needs. So, it pleases us to see that these efforts are being recognized by global hoteliers." Michael Kessler, CEO at ReviewPro
The report provides answers to various important questions, such as:
How can machine learning (ML) trigger relevant responses for individual guests and target groups?
How can intent-based technology help to increase conversion?
What are the new, trust-building factors for guests in a post-pandemic world, and how can ML help?
How can hotels optimize data collection (avoiding data silos) and effectively manage automation?
Can new technology be rolled out fast, and how are the integration levels with existing infrastructure?
What is the potential of operational cost savings via ML including areas of the highest impact?
ReviewPro, a subsidiary of the Shiji Group, is the world's leading provider of Guest Intelligence solutions, serving more than 60,000 hotels in more than 150 countries. ReviewPro offers an AI-driven unique Visitor Experience AutomationTM tool, which automates the administration of the guest experience in a hotel setting. These tools and methods enable customers to prioritise operational and service changes in order to provide better visitor experiences while simultaneously increasing guest happiness, internet rankings, and income streams.
h2c was established in 2001 to give professional services to hotel chains and independent properties in order to improve their marketing and distribution performance and profitability. "Their connections are shaped by their desire to convert the intricacies of the marketplace into tangible tactics. The ultimate goal is for clients to feel confidently in control.
Source: h2c