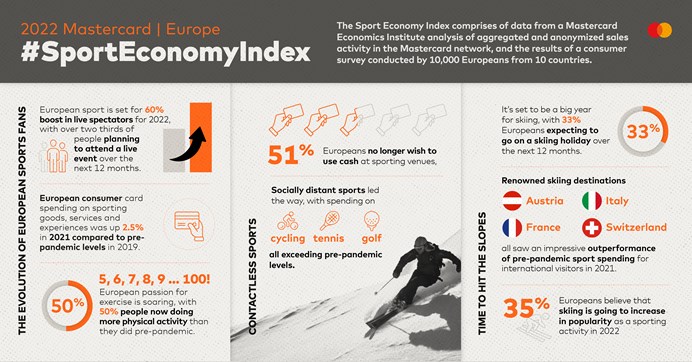 A survey released as part of the Mastercard Sport Economy Index found that live sporting events will witness a 60 percent increase in new and returning fans this year compared to the previous year, even though Covid-19 regulations vary from country to country in different parts of Europe.
According to a study of more than 10,000 Europeans, more than two thirds (67 percent) intend to attend a live sporting event in 2022 – an increase from 42 percent who did so in 2021 – with football, basketball, and tennis expected to be the most likely options. But with half of Europeans reporting that they discovered a new sport to follow as a result of the pandemic, the door is open for burgeoning spectator sports, like as esports, to welcome new fans to live competition in 12 months time.
This follows two years of tumultuous sport attendance limitations, which for many resulted in the inability to attend live sporting events during their spare time. A study by the Mastercard Economics Institute analysed the aggregated and anonymized sales activity in the Mastercard network. They found that spending on cycling, tennis, and golf equipment and services – all activities that conform with social-distancing standards – exceeded spending levels prior to the epidemic.
An exciting 12 months of sport is about to begin, with the Hahnenkamm Alpine Ski World Cup in Kitzbühel, Austria, sponsored by Mastercard. The future of the sector seems bright as Europeans look forward to returning to see their favourite teams and competitors compete live in the future. This will in turn boost the travel and tourism industry.
After all, many people's passion for sports cannot be satiated by simply watching it on television. Four out of ten people lose interest in sport when they are unable to attend matches or competitions in person – with the atmosphere and socialising topping the list of things they miss when stadiums are closed – underscoring the significance of live sporting events to European culture and society as well as their importance to the economy.
Europeans are ready to get their passports out of their pockets. There is optimism among consumers that the next 12 months will bring with it more travel chances, with a third of Europeans wanting to go on a sporting holiday in 2022, according to the study.
In Europe's sporting tourism sector, skiing is a cornerstone activity, with 34 percent of the population planning to climb the continent's snowy peaks this winter season. The countries of Austria, France, Italy, and Switzerland all saw an increase in international tourist expenditure on sports last year. While changing regulations continue to have an impact on the industry, the desire for Europeans to visit the slopes is undeniable.
"Over the next year, we believe the combination of easing restrictions and accumulated savings will open the door for European consumers to enjoy the sporting experiences that matter to them. We're thrilled to see that consumer confidence is on a positive upturn and that new and returning fans are excited to attend live sporting events in 2022," said Jeannette Liendo, Senior Vice President Marketing and Communications at Mastercard Europe. "Sport is a critical component of European culture – as both a spectator and participation activity – and we are proud to sponsor some of the region's most exciting sporting competitions and events for 2022."
Source: Mastercard